Summoned by Bells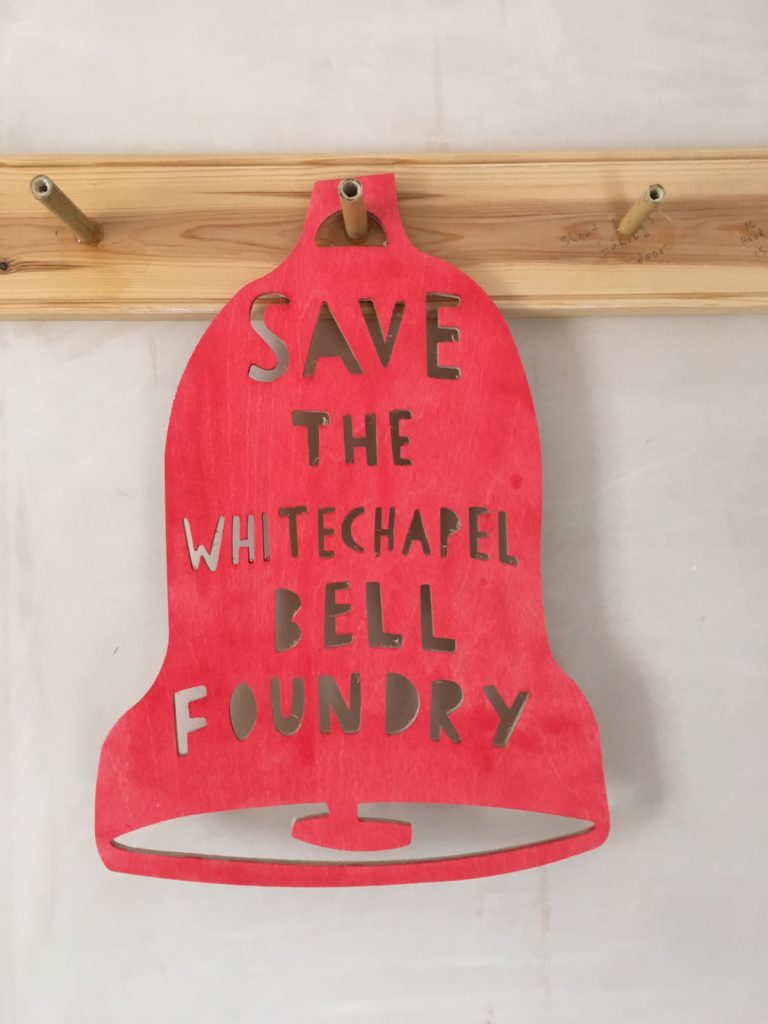 I went to the Whitechapel Mosque on Saturday for a rally in support of the campaign to save the Whitechapel Bell Foundry. It goes to the planning committee on Thursday evening.
A developer wants to turn the now closed foundry into a boutique hotel with 108 rooms whilst incorporating a fine art foundry with artists' workshops as well as a public café, separated off from the furnaces by a glazed screen to protect those enjoying their cake from "the sometimes hazardous activity within".
The Gentle Author and others have proposed an alternative scheme through the United Kingdom Historic Buildings Trust. Their proposal preserves the 400 year old bell making function as central to the site's future but with apprenticeships and a range of additional craft enterprises.  What they have in mind is necessarily more open-ended and incremental but has the support of the Factum Foundation, the Prince's Trust, the V & A and the Smithsonian.
At 128 pages the officers' report is a bit of a death knell. The big strike is at page 119:
"The level of harm to the significance of the listed structure caused by the sensitively designed interventions, including the new hotel, is assessed to be less than substantial, and officers' opinion is at the lower end of this scale."
So the officers support the proposal. Well, no surprises there. They acknowledge harm but they believe that the proposal is within the bounds of what's legally allowable. Now the politicians have to decide whether the proposal is also within the bounds of what's politically acceptable, given the range of policies that govern development of this sensitive site.
One thing, however, is clear: the planning process cannot address is what's imaginatively possible.
At our rally we had speeches from the local councillors talking about the importance of the foundry to the area's history, the dangers of creeping gentrification, the promise of training and employment as part of the UKHBT's alternative scheme.
Then, just as he was getting going, Cllr Tarik Khan was silenced by the mosque's call to prayer. Although visibly annoyed he stepped off the podium for ten minutes whilst the muezzin sung his heart out. Those who had come to the rally lowered their eyes respectfully and attended to their mobile telephones.
It was an Angelus moment; an interruption, a hiatus.
Sometimes you just have to stop in order to dream about what's possible – although, it's true, this can also sometimes be a genuinely hazardous activity. I hope the politicians hear the bell sounding when the proposal goes to committee on Thursday evening and they reject what's on offer here in preference for a scheme with the potential and the partnerships to create something extraordinary.