Hazel Walcott, Champion For Black History Month
I learned a lot of history at school growing up in Jamaica, about Christopher Columbus and about Captain Cook and the people who travelled and conquered.
And also about how we came from Africa in boats and about the Maroons, the indigenous people that still live in Jamaica and have their own government, more or less.
So when I first came to Manchester at the end of 1959 I was interested to learn more about English history. I went to a night class in Wally Range, but it turned out it was all about cutting off Charles' head and stuff like that and I lost interest.
Meanwhile, in my work, I trained as a pharmacy technician. I was registered with the Society of Apothecaries in Blackfriars in London – this was the first place you could do examinations in medicine, when it was all herbs and roots. It's very old; it's part of the history of the City of London.
That's where I learned about Mary Seacole. She worked alongside Florence Nightingale as a nurse. It was during the Crimean War. She made her own remedies out of herbs and plants to help the soldiers.
She had learned these remedies from her mother growing up in Kingston in Jamaica.  She never got the recognition she deserved because it was all about Florence Nightingale.  Now she has got the recognition. In 2004 she was voted the greatest Black Briton.
Michael Gove wants to drop Mary Seacole from the curriculum, but lots of people wrote to him and said we needed to learn about Mary Seacole.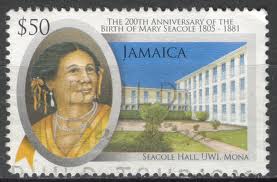 Black History Month is about teaching people a bit about our history, in the libraries and all the events around London. Children grow up and they want to make their own rules and they don't know things, how things have always been hard. They want it easy.
So we've got to teach our children, tell them our history. We can't rely on the government to do everything. We can't even rely on the schools. That's why I have this book stall here in church. To help people learn about our history.
Now I'm a guide at St Paul's Cathedral. I trained to be a guide which was very very useful.  Did you know that there are about 200 people buried in the Cathedral, famous people and generals like Nelson and Wellington, though they can't bury people today there because of Health and Safety.  It's very interesting.

Mary Seacole isn't buried in the cathedral. She is buried in Kensal Rise cemetery. In May time we go to her grave to pay our respects. She was a great lady from Jamaica and clever with the herbs.
You know, we also had bush tea remedies when I was growing up in Jamaica but I'm not really into that myself. I believe in having a proper dose.
And all for His sake