on being stalked
For the better part of the last decade I've had a stalker.
In the beginning, when we were colleagues, I didn't realise that's what it was.  I tried to field his unusual intensity with everyday friendliness. It didn't work. In fact my attempts to manage the situation made it far worse.
Five years ago I sought to break off all contact. Three years ago I went to the police.
Until now I have not spoken about it in public.
Whilst I have always known that I can't be protected from this shadow through the courts alone, I now see that I'm going to have to bring it into the light of day.
Damage
This man appears to have a compulsive drive to do damage. This is what he says of himself:
"As a necessary pre-requisite for being able effectively to make war against [my] enemies [I] view them as having no human value or status at all . . . they feel no pain, do not suffer and have no human value."
Some of the things he has done, in isolation, sound benign enough, almost practical jokerish:
delivering 'gifts' to my home – medals, monogrammed underpants, a live hamster (yes, a hamster in its own 'vicarage' themed cage).
insisting that I accept the nickname 'muffin'
But these actions get more disquieting:
giving a charity my name, likewise a website, also a credit card.
demanding that I share his food, his clothes, his money – all in order to 'purify' them
threatening to circumcise me with a number ten scalpel at a public meeting
And then, in 2014, he settled on his most damaging tactic:
alleging that I had sexually abused him, eight years previously.
Fake News
Specifically he said that I asked him for 'a blow job'. He claimed (first in 2012) that I asked him for this back in 2006 over a meal after work in a café in Spitalfields.
He went on to say that I was his "moral and fraternal duty to care for and to sort out" and that he wanted to "belong as [my] brother" whilst warning me not to "interfere in [his] OCD compulsions".
After I tried to break off all contact he claimed that I had groomed him and that I was a bi-sexual predator.
Then in 2015 and 2016 he took his smear campaign online. He started spreading the abuse slur as far as possible across the internet, setting up 'fake news' websites to do so (before 'fake news' became a thing).
Anonymous unsolicited news bulletins 'reporting' on these abuse allegations were sent to fellow councillors in the City of London, to clergy colleagues and friends across London diocese, to my wife's friends and colleagues, the local rabbi.
Voters in the City of London's Portsoken ward recently received a printout through their letter-box rehearsing this allegation.
A few days later this direct mail campaign reached the local newspaper, City Matters, in the middle of an election I was contesting at the time.
I found myself having to defend myself against anonymously made allegations of sexual abuse.
Whilst most dismissed this material as the smear it evidently was, some local residents who didn't know me, leapt to conclusions.
Should I ignore his provocation?
Or should I speak out, lest my silence be misinterpreted as an admission of guilt?
And why is he so invested in claiming that I was sexually interested in him?
Restraining Order
Any form of sexual misconduct or abuse or bullying, especially where there is a power disparity, needs to be challenged. But so too do false allegations.
To be clear: I have never had any sexual contact with this man. Nor have I wanted or sought to have any. I have certainly never abused him.
This false allegation was one reason (in the context of a course of harassment that stretched back years) that I went to the police in the first place in 2014.
As reported in City Matters on 29 November 2017, the Criminal Prosecution Service (CPS) took the case to court in 2015 and, following a succession of hearings (some of which he failed to attend), the court imposed on him a ten-year restraining order (dating originally from March 2016), preventing him, among other things, from:
Contacting me or my wife, directly or indirectly
Making allegations of personal wrongdoing about me in any public forum
Entering the street where I live or any church where I hold office
Referring to me or causing me to be referenced in the media or online
Delivering any items to me
Speaking to me or about me at any events where I am present
However, because of an error in the way the CPS handled the case (for which they have subsequently apologised), this restraining order was only agreed on the withdrawal of the Crown's evidence.
This means that although the restraining order was deemed to be necessary and proportionate by the court, he was not convicted of the crime of harassment and stalking and left the court "without a stain on his name."
Good Name
Even so it seems the restraining order has not stopped him continuing to spread his cyber smear across the internet and causing the casual Googler to startle at the scandal that seems to have gathered around my own name.
Even my mother in Cambridge was asked about it by a neighbour friend of hers.
Up until now he has managed to hide the trail back to himself by on-line manipulation: through proxy websites that are registered in overseas jurisdictions where the author's identity is obscured beneath folds of fiction.
If it can be proved that he has promoted this on-line material  – or that he was involved recently in its circulation to voters – then he would be in breach of his restraining order. This is now a police matter.
The reason that I am putting this story on my blog is because there is nowhere amongst all the cyber smear that gives my account of what actually happened. This struck me forcibly when I was approached recently by the City of London newspaper City Matters.
I want the truth to be at least visible within the fog that swirls about it. Better to light a single candle than to curse the darkness type thing.
In the end, however, our good name is one we receive as a gift. It's a grace bestowed neither by the magistrate's court nor by the court of public opinion. And for that I give thanks.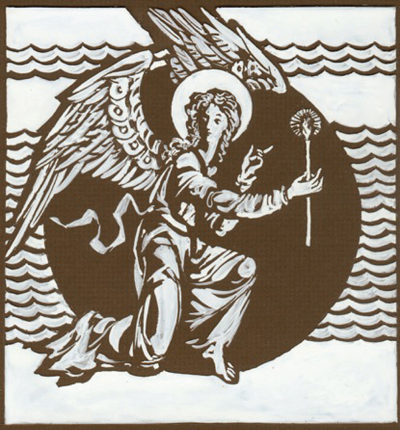 in the tender mercy of our God, the dayspring from on high shall break upon us, to give light to those who dwell in darkness and in the shadow of death and to guide our feet into the way of peace.