Keep Taking the Juice
Richard is what you could call an "artisan Hackney juicer" – and  the humble cucumber is his fruit of choice.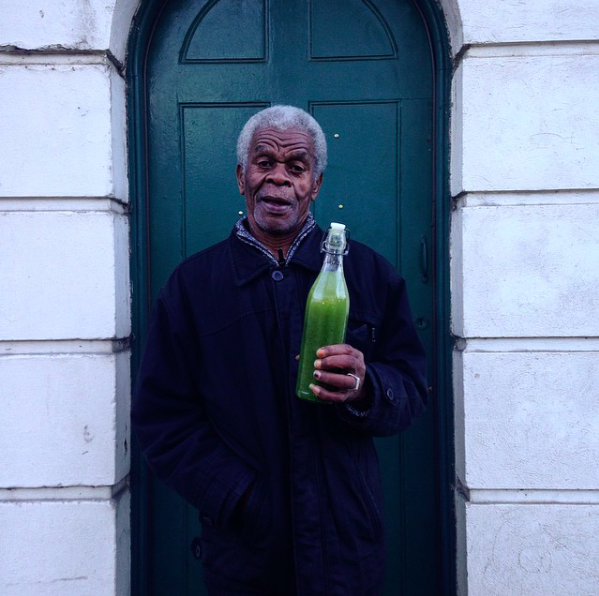 "How long is this going to take?" I ask.
"You can make it quick or you can make it sweet. You've got to let the different flavours talk to each other before you chill. Otherwise it won't taste good, vicar."
"Shall we get on with it, then?" I say, maybe a little impatiently. Waiting to chill isn't really my thing.
I lay out the ingredients in a row on the table – 2 large sized cucumbers, a couple of limes, cane sugar, a big bulb of ginger  – and Richard sets to work: dicing, splicing, scraping, chopping and squeezing.
Before liquidising the lot he whips out three vials of ginseng and pours them in. The green cucumber juice oozes out of the whirring tub as though it's a living thing, a ferment. It's at this point I realise that Richard is, in fact, a wizard.
Now it's time to let it stand, he says. He sits down at the kitchen table and pours out some tea. I join him, glancing up at the clock.
"Where did you learn to cook?"
"I learned cooking from my grandmother in Montserrat," he says, recalling those early days at the fire.
Richard was 21 when he left the Caribbean. That was over 60 years ago.
"I was here for six years, working as a labourer, and then I heard my grandmother was sick and I couldn't find the plane fare. So I took the boat to go home to look for her."
He tells me what she told him when he found her; the family stories, the culinary conversations, the leavetaking. He talks about his mother and his twelve younger siblings, about his wife, now deceased, and his own children, his life in London. He tells me what he does with yams and breadfruit from Ridley Road Market, and goat too. He talks about the juices he makes from Irish moss and teas from different herbs, which he grows in his dirt pots on the window sill.
"So it's all locally sourced and seasonal," I say, somewhat mesmerised, though it may be the herbal tea.
"Here's your cucumber juice. Keep it in the fridge."
At the door he adds, "It'll work good for your blood pressure, vicar. Keep drinking the cucumber juice."