Fr Dorote – Georgian Orthodox priest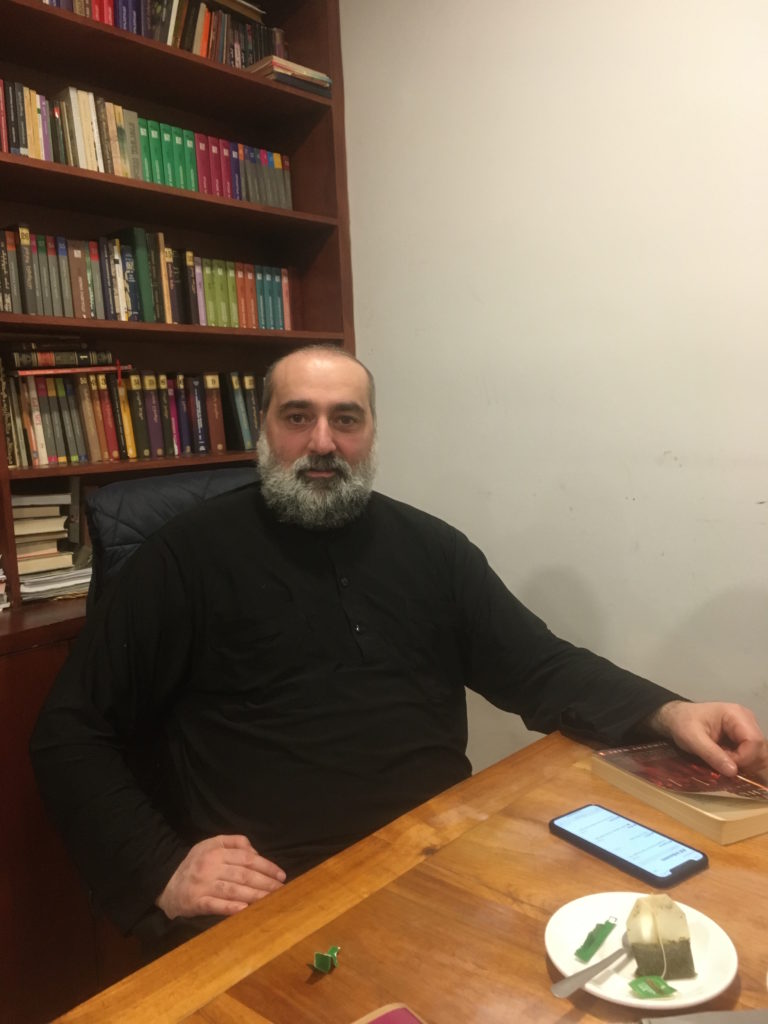 This is the Week of Prayer for Christian Unity and so I give Fr Dorote a ring.
Fr Dorote is the dean at the Georgian Orthodox Cathedral of the Good Shepherd, located beside the Stamford Hill Bus Garage on Rookwood Road and just opposite the New Synagogue of 1915 on Egerton Road. In other words he's a neighbour on the other side of the Common.
"Are you free for a cup of tea?" I ask him.
"Yes."
"Your church or mine?"
"I have cake," he says, which pretty much clinches it.
The Orthodox calendar means that Fr Dorote has only just celebrated the Feast of the Epiphany. This involved the blessing of 150 bottles of water from Aldi, as well as quite a lot of cake  – or, as I would call it, pudding: peanut butter meringue with whipped cream.
We sit in his day room in the basement to his church, an undercroft area below the high altar. He shares this space with his community and there is quite a lot of coming and going during my visit. There are several sofas arranged in front of a flat screen TV and a long refectory table down one side. It has two walls of books, one in English and one in Georgian. On the shelves are a couple Panduri – Georgian folk guitars – that he tells me his deacon plays.
When he brings the tea and cake through from the kitchen his dog, a heavy set Labrador, follows him out.
"Does she like cake too?" I ask
"That's Roy," he says, "we're all men down here."
Fr Dorote and I have been at our respective churches in Stamford Hill for almost exactly the same length of time – ten years. We meet from time to time at the Jewish-Christian Forum with the local rabbis and at other social gatherings but I don't actually know very much of how he came to be in London. This is a good opportunity to find out.
Fr Dorote – or Zaza as he is also called – was born in Tbilisi in 1975. That's where he grew up and where he went to school. He studied civil engineering at university and initially thought he wanted to build bridges but found himself drawn instead to a monastic life of prayer, a different kind of "pontifex". Eventually he was sent by his "spiritual father" to the ancient monastery at Betania, just outside Tbilisi, for training and discernment.
Up at three in the morning for prayers, a piece of bread at 7 am followed by a daily round of silence, study and work on the farm, it sounds a far cry from peanut butter cake in North East Hackney.
In Feb 2010 the Archbishop asked him to come to London "for two months" to sort out some difficulties in the community. The two months have become ten years and he now serves the ex-pat Georgian community in London.
Officially there are 1227 Georgian residents in the UK. The actual number is estimated to be closer to twice that number.
We head upstairs to the church where he shows me his icons, many of which are adorned with white Epiphany flowers. He is particularly proud of one of St Andrew beside the iconostasis.
"This one is with a relic." he says.
"Oh, really, which part of the body?" I ask.
"No idea," he says, kissing it.
As I walk home across the Common I reflect on how we may have different practices, calendars and doctrinal beliefs but over tea and cake we are able to find friendship and solidarity.
I pass by Liberty Hall, where we are regenerating the former toilet block as "a village hall and community kitchen" and it strikes me that the real work of ecumenism begins with spending time with our neighbours. We may not be a single community of faith but we can at least aspire to be a genuine community of fate. That's why we need places to meet like Liberty Hall.
This is the week of prayer for Christian Unity. It's also Village Hall Week. Maybe they amount to pretty much the same thing.